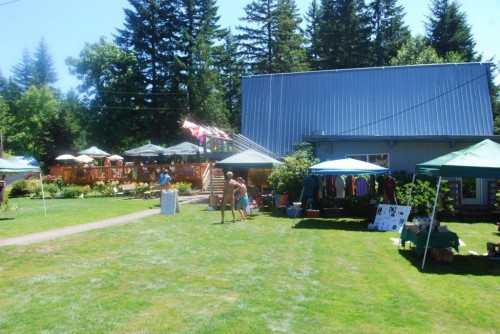 Mountaindale Sun Resort (MSR) is one of the oldest nudist resorts in Oregon.   The club was developed over fifty years ago, originally named Restful Haven Health Club.  The club name was changed to Mountaindale Sun Resort in 2005.   MSR hosts hundreds of members and guests each year and is well known for its social events including the annual Sun Festival and Fun Run, the first weekend in August,  a huge crab feed and Valentine's Day party in February, and Halloween in October.
The club is located on 104 acres of forest land in Washington County, Oregon.  We are located less than 80 miles from Oregon's coast, and 30 miles from Portland.  From here, guests have terrific opportunities of seeing many tourist attractions including the scenic Oregon Coast, Oregon's vineyards and wineries, and some of the nation's best golf courses.
Members and guests come in all shapes, sizes, ethnic backgrounds, and beliefs.  What nudists all hold in common is the joy of social nudity.  As a family oriented club and proud affiliate of the American Association of Nude Recreation, we embrace the diverse membership.  We welcome couples, single members, and guests who uphold our strict rules for polite and respectful social nudist behavior.
Mountaindale Sun Resort is an affiliate of the following:
American Association of Nude Recreation (AANR)   http://www.aanr.com
American Association of Nude Recreation Northwest, AANR- NW  http://www.aanr-nw.org/
The Naturist Society (TNS)   http://www.naturistsociety.com/
The International Naturist Federation (INF)     http://www.inffni.org/