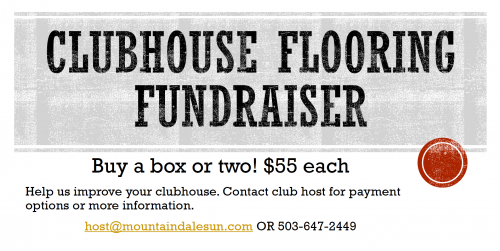 Help us meet a need!   $55 TO BUY A BOX
This is an exciting note you may have heard about, but we want everyone to know!
We took the idea to the membership to replace the existing floor in the clubhouse with a new floor.  The club is replacing the floor by having folks "buy a box" of the vinyl floor covering.
This flooring is a new product that looks like a laminate flooring but is a vinyl product.  Each box is $55, and in the meeting, the members raised their hands and have purchased 27 boxes of the necessary 35 boxes of flooring.    If you would like to participate and purchase one or more boxes, please send a reply to Host Michelle at host@mountaindalesun.com/ or call at 503-647-2449.  Let her know how many boxes and if you want to pay by cash, credit card, or by check.  Our hope is that the overwhelming response continues, and we can do more than the clubhouse floor, but extend to the guest kitchen.  We are also using the funds to put in new baseboards.
Once we have secured the dollars to order the flooring, Troy and Brian are leading the installation as they have completed projects using this new product.   If you would like to help install the floor (it's a great opportunity if you plan to do this in your house!), let Michelle know as well so we can schedule a date to do the floor.
This is a huge thank you for all who are participating in this great project!
My Regards,
Troy and Team!