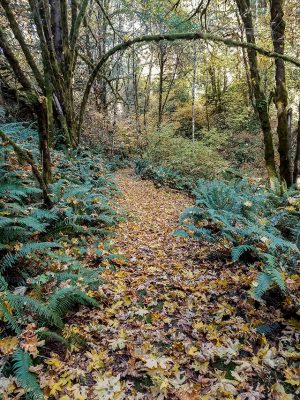 As the summer season comes to a close and Autumn has arrived, our trails continue to thrive. The lingering smoke in the valley has all but left, returning the spectacular view of the valley below experienced from our Alpine Park overlook. The center of the park is dominated with daisies that continue to bloom even with the summer behind us and the view of the fall color below is something that must be savored.
Falling leaves are beginning their annual descent from the trees to the trails, creating a tranquil feeling that is enhanced by a fragrance experienced only at this time of year.
The 9 hole disc golf course that was recently constructed continues to challenge its players to not only to get to the upper 8 holes, but to keep their discs out of the weeds that are dying down, allowing previously lost discs to reappear.
Autumn is indeed an enjoyable time to go for a hike on the trails at MSR.
Experience MSR. Experience our trails during all seasons.
Experience the Mountaindale Sun Resort Trail on these Virtual Tours:
Photos From the Trails