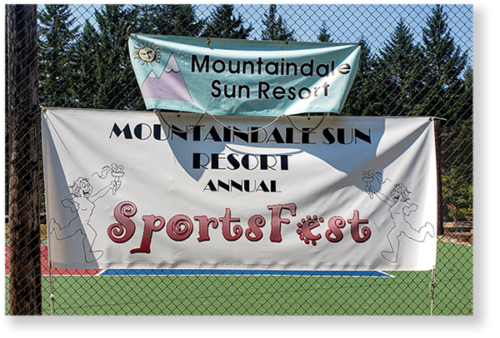 SportsFest 2022 was by all accounts a success! For all of the 120 attendees, there was a good time to have either through one of the 12 sports or the 2 dances. Most participants were in more than one sport. In fact one participant left with 6 medals for his participation. The twelve games totaled 81 players.
Almost half of the attendees were not associated with any club! Sixty-six members of MSR attended and enjoyed the sports, played the games, ate one of the 6 meals, or danced in one or both dances. We are so proud of our MSR members and their many medals. Speaking of awards, the grand trophy will be presented at the August meeting.
There were numerous notes of thanks and praises. This quote sums up what we heard "Can't wait for the 2nd annual SportsFest…",
Thank you to the dedicated MSR members to helped plan with the event. This includes huge kudos to the SportsFest Committee, lead by Wendy W. and the committee of Judy M, Iain W, Liz N, Ron B, Rich B, Rylla R, and Pat R. Public Relations was successful to the work of Doug M and Liz N. The meals, the registrations, and the sports were all successfully managed by MSR volunteers. We are grateful to the many dedicated volunteers. Lastly, we could not have done this without the huge help of our entire Host team of Ollie, Marshal, Sue, and Jill.
SportsFest 2023 planning is now underway.
Competition Winners:
Pickleball – 1st: Mark B/Alicia C, 2nd: Marcus D/Todd B, 3rd: Austin C/Felix C
Disc Golf – 1st: Jim M, 2nd: Marcus D, 3rd: Vern F
Bocce Ball – 1st: Jim & Arehn, 2nd: Jack & Karen, 3rd: Susana & Colin
Shuffleboard – 1st: Ed & Terry, 2nd: Sally & George, 3rd: Jenny & Roger
Water Sports – 1st: Austin C, Roger M, Ann T, David M, 2nd: Wendy B, David G, Judy M, Chris R, 3rd: Susan R; Felix C, Cathy H, Jennie M
Volleyball – 1st: Ollie, Jared, Ron, Cara, Felix, George M, Alicia, 2nd: River, Ginger, Steve, Carl, & Andy
Ping Pong – 1st: John M, 2nd: Jim M, 3rd: Leona M
Poker Hike – 1st: Todd B, 2nd: Julia S, 3rd: June S
Corn Hole – 1st: Bob S, 2nd: Jim M, 3rd: Carl B
Horseshoes – 1st: Wendy B, 2nd: Victor B, 3rd: Ollie